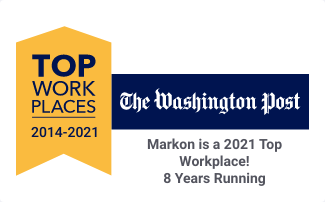 For the eighth consecutive year, Markon Solutions has been named one of The Washington Post's Top Workplaces in the Greater Washington area. Markon was ranked number 18 out of 76 mid-size companies. Selection is based solely on employee feedback gathered through an anonymous third-party survey administered by research partner, Energage, LLC, which measured the 15 culture drivers considered critical to an organization's success.
Related: Energage Names Markon a Winner of the 2021 Top Workplaces USA Award
"We take pride in our commitment and ability to source and recruit diverse teams of individuals with a wide range of backgrounds, skillsets, interests and passions," states Sherif Wahby, Senior Director of Talent Acquisition at Markon Solutions. "It is these superstars that contribute to our continued growth and to making Markon Solutions a Top Workplace!"
Markon's Vice President of Operations, Krissy Goff, said "The best part about winning this award is that it's based on direct input from our employees. We could not be prouder of our organization and the approach we use to take care of our people. It's an honor and a privilege to work with such an amazing team."
For more information about The Washington Post's Top Workplace recognition and to see the full list of this year's honorees, please click here.
About Markon Solutions
Founded in 2007, Markon Solutions is a nationally recognized professional services firm headquartered in Falls Church, VA. With an elite team of high-performing leaders and innovators, we serve as trusted advisors managing tasks on behalf of our clients, so that they can stay focused on their mission. Markon's impressive workforce leads with humility and respect, takes initiative, puts corporate and client integrity before personal gain, and are champions of fostering a diverse and inclusive workplace culture where our employees and clients benefit from a wide range of collective viewpoints, experiences, and talents. ​​​​​​​
Markon supports projects all over the world for some of the nation's most prestigious organizations, including commercial clients, higher education, the intelligence community, civilian and defense agencies, as well as state/local entities. Specializing in six core service areas—acquisition, finance, facilities, security, training, and enterprise technology—Markon is consistently recognized on the ENR Top 50 Program Management and Top 100 Construction Management-for-Fee Firms, Washington Post Top Workplaces, and Virginia Business Best Places to Work lists.
Ready for a career change? Visit https://www.markonsolutions.com/careers to explore new opportunities!
About The Washington Post
The Washington Post is an award-winning news leader whose mission is to connect, inform, and enlighten local, national and global readers with trustworthy reporting, in-depth analysis and engaging opinions. It combines world-class journalism with the latest technology and tools so readers can interact with The Post anytime, anywhere.
About Energage, LLC
Energage is a leading provider of technology-based employee engagement tools that help leaders to unlock potential, inspire performance, and achieve amazing results within their organizations. The research partner behind the Top Workplaces program, Energage has surveyed more than 47,000 organizations representing well over 16 million employees in the United States.