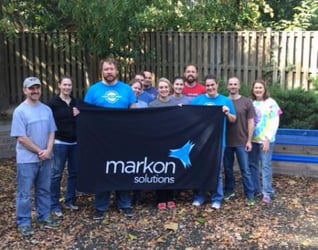 On October 29, Markon employees and family members spent the day revitalizing two apartments at one of the shelters operated by the Shelter House.
Shelter House's mission is "to provide crisis intervention, safe housing and supportive services to promote self-sufficiency for homeless families and victims of domestic violence in Fairfax County."
19 volunteers split into teams to repair holes in the walls, apply a fresh coat of paint, and deep-clean two apartments within the complex. At lunch, we provided pizza for volunteers, as well as the residents.
To learn more about the Shelter House and how you can help, visit http://www.shelterhouse.org/.
For photos, check out our Facebook page.