On October 14, Markon employees, family, and friends joined together to make improvements to a local shelter.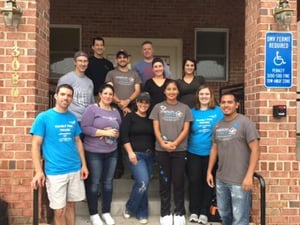 Projects included assembling cribs and cabinets, and painting the main stairwell, hallway, and a bedroom.
The team also brought in lunch for the families staying at the shelter, which ended with a dance party for the kids.
Shelter House, Inc. is a community-based, non-profit organization serving homeless families in Fairfax County, Virginia.
Their mission is to prevent and end homelessness and domestic violence by engaging the community, building effective relationships, and providing crisis intervention, safe housing, and supportive services.
To learn more, visit http://www.shelterhouse.org/.