We're proud to announce that our own Scotte MacQueen is the 2017 recipient of the CMAA National Capital Chapter Award for Construction Management Excellence. Scotte is a Senior Associate with Markon Solutions serving as the Program Management Office (PMO) Program Manager for the District of Columbia Courts, Capital Projects and Facilities Management Division.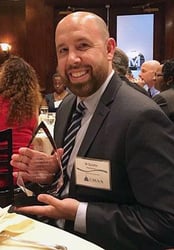 On client site, Scotte strengthens the PMO at the program level with appropriate governance and controls. At any given time, the program involves more than 30 concurrent projects throughout the Courts facilities where daily operations must be minimally impacted. He addresses program-level gaps and project-level issues which would have portfolio-wide impacts. His responsibilities include oversight of program PM/CM and QA services, client master planning, monthly reporting, standards/process/requirements maintenance, and much more.
In addition to his client-facing duties, Scotte goes above and beyond to support the professional development of others and to enhance Markon's solution offerings. He serves as the Selection Committee Chair for the Markon's internal Leadership Development Program (LDP). He also helped three colleagues prepare for the Certified Construction Manager (CCM) application and exam (all passed!). Scotte is a contributing member of Markon's Risk Management Committee.
His credentials include CMAA's CCM, IFMA's Facility Management Professional (FMP), and PMI's Project Management Professional (PMP)®.
Congratulations, Scotte!