It's been eight years since Markon started work at the ICC-B. We are still going strong supporting facilities design and construction life-cycle programs at the $500 million campus that spans 29 acres and one million square feet of buildings.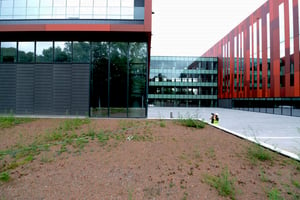 Our work started with the construction of a new parking garage, visitor center, and vehicle control checkpoint located at the northern campus. The Albert Hall building was demolished, and the new Centrum building was built with a central mechanical plant connecting all buildings on the campus. Roberdeau Hall was gutted down to the structural elements and renovated to house a university and library.
As Markon cycles team members to different programs, our employees have stepped in and continued to provide outstanding support on the latest ICC-B projects such as Erskine Hall building and exterior site improvements. The Erskine Hall cafeteria was recently completed in November, just in time to serve Thanksgiving meals. The cafeteria includes a full-service kitchen, food servery, food storage and prep, and dining space configured to serve up to 1,100 meals per day with 450-500 seats. Above the cafeteria on the third floor, construction crews are racing to complete a full floor tenant fit-out (84,000 square feet) with more than 375 work stations and an ultramodern conference center.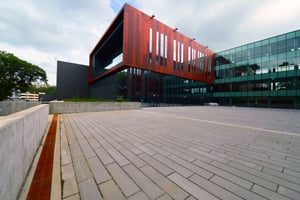 The ICC-B's main entrance has been updated and now boasts a paver walkway with a helix limestone stem wall known as the "eyebrow." The front yard has also been tilled two-feet deep and greened with new sod, plantings of over 30 native trees, and an irrigation system. Another project recently completed was the waterproofing of the Roberdeau Hall foundation. This work required excavation of the entire north foundation wall that was over 20-feet deep which required shoring and equipment to be lowered into the excavation, all while the building was occupied. The water proofing was applied to the foundation wall and more than 500 tons of gravel was used to backfill the large excavation.
The majority of upcoming projects are outside, including two large bio-retention ponds, an underground storm water filtration vault, and complete replacement and enhancement of streetscapes throughout the campus. There are two projects where designs are almost complete and ready for construction. The above ground storage tank (AST) project will install a 15,000-gallon fuel storage tank supporting three large generators on site. Once completed, the existing underground fuel storage tanks (UST) will be excavated and removed. The Erskine Hall switchgear replacement project provides a new switchgear to the building and replaces two outdated transformers.
The Army Corps of Engineers estimates a completion date of 2021 and Markon will continue to play a major role in the success of this program. Stay tuned for more!
Written by: Richard Astlin