Markon is providing exceptional tenant coordination services during a 12-story atrium window replacement program in Washington, DC.
The 413,000-square-foot building features a 12-story sky-lit atrium that rises the full height of the building over the lobby. This unique free-standing property features an expansive window line with park, monument, and CityCenter views.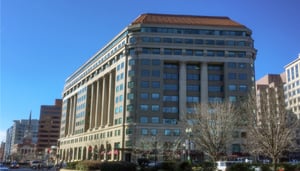 Before construction began, we met with all 17 tenants individually to review construction plans and gather requirements to limit the impact on employees, customers, and core business. We developed a communications plan, 17 discrete tenant coordination plans (including schedule, scope, and impacts), office move contracting, monthly status reporting, and a tenant issue tracker. Our project managers field requests from tenant and implement plans to keep tenants satisfied and informed.
The project is scheduled to conclude in late 2018.