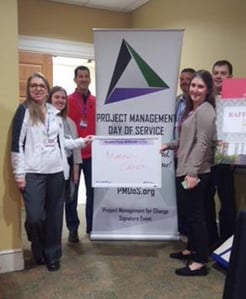 Seven Markon volunteers participated in the Project Management Day of Service on Martin Luther King Jr. Day. Each individual contributed pro-bono project management skills to non-profit leaders in need of project planning assistance. Many of these organizations do not have the resources or funding to incorporate this level of project planning into their programs.
These non-profits varied in mission, operations, and goals, but luckily project management is universal!
To highlight just a few of the project plans we worked on:
Marcus Garcia supported a Howard University non-profit program with an action plan to alleviate the lack of affordable housing for homeless and low-income residents in Washington, DC.
Michelle Gettle worked with Culmore Clinic to establish a monthly management plan for their non-profit healthcare clinic providing little to no cost medical care to the Bailey's Crossroads community.
Merritt Ogle helped Operation Renewed Hope develop a strategic plan as they prepare to move into a new facility. The new plan encompassed elements to promote donor stewardship, social media usage, and unified messaging.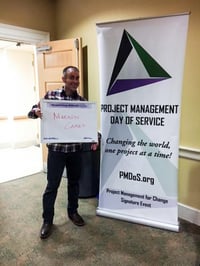 Along with Steve Genn, Bryan Doss, Julie Swiatek, and Jay Zayas, Markon was able to provide professional project management guidance to seven different, local non-profits in order to help them reach their next level of potential and beyond.
As a management consulting firm, it's humbling to be able to take the skills we use day-to-day on our project sites and bring them to a platform that services the local community in an impactful way. Project Management for Change has created this platform in the act of the Project Management Day of Service. After our second year of participation, we are eager to join for a third in 2019!
For more information on Project Management for Change, please visit https://www.pm4change.org/.