Markon Solutions is proud to announce that it was named one of The Washington Post's Top Workplaces for the fourth year in a row! Markon ranked #18 out of 60 midsize businesses.

The Top Workplaces lists are based solely on the results of an employee feedback survey administered by WorkplaceDynamics, LLC, a leading research firm that specializes in organizational health and workplace improvement. Several aspects of workplace culture were measured including alignment, execution, and connection.
"We are honored to be named a Top Workplace for the fourth year. When we started Markon, we wanted to create an environment in which people could take control of their careers and exercise their entrepreneurial spirit," states Matt Dean, CEO of Markon. "Going on our tenth year in business, this is still true today."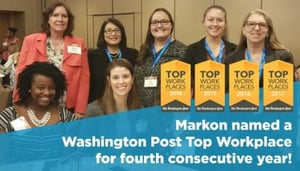 Markon hires ambitious project managers and leaders to serve some of the nation's most prestigious clients. It's the company's mission is to keep those leaders challenged and engaged, so that they can provide exceptional support to clients. To learn more about careers at Markon, visit https://markonsolutions.com/careers/.