Markon was named one of the Best Places to Work in Virginia for the fourth consecutive year. Markon ranked #11 on the list in the Medium Employer Category.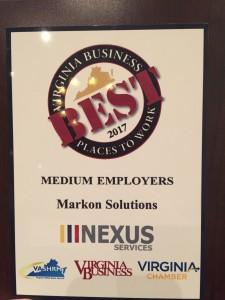 "When we founded Markon, we wanted it to be a place where people enjoy coming to work," states Matt Dean, President of Markon Solutions. "We invest significantly in our employees' professional development and benefits, support non-profit organizations that are important to them, and provide several opportunities to get to know fellow teammates outside of work. Being recognized four years in a row is an honor and confirms that we are succeeding in building a great place to work."
The annual list of the Best Places to Work in Virginia was created by Virginia Business and Best Companies Group. The statewide survey and awards program is designed to identify, recognize, and honor the best places of employment in Virginia, benefiting the state's economy, workforce, and businesses. The 2017 Best Places to Work in Virginia list is made up of 100 companies.
For more information on the Best Places to Work in Virginia program, visit www.BestPlacesToWorkVA.com.