On October 15th, Matt Dean had the opportunity to speak to the fall 2014 class enrolled in George Mason's MBA program. Their specific track is focused on the Defense Services industry.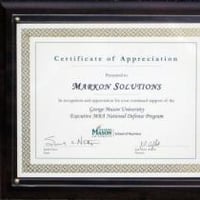 The program is co-sponsored by one of Markon's partners (Engility Corporation) and one of Markon's clients (JPEO Chemical, Biological Defense).
Matt's topic to the group focused on key areas to consider when starting a business within the Defense Services industry. The presentation was very interactive as the GMU students were very interested in how Markon operated.
The program presented Markon with a certificate of appreciation for support to the program this fall and over the past 2 years.