Markon Cares, our community outreach program, is a demonstration of Markon Solutions' belief in its core values; it's vital to maintaining our company culture as we continue to grow.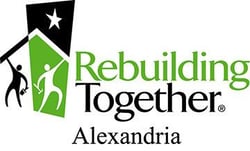 Over the years, multiple employees have dedicated their time to supporting the community through selfless acts. This year's mission was no different, as we collaborated with Rebuilding Together Alexandria to participate in National Rebuilding Day for the fifth year!
Our project this year was a special one. Mrs. Charlene Napper has a deep history in the surrounding area and an amazing story about her 85-year journey in life. To read more about Mrs. Napper, check out these articles:
In the weeks leading up to the project, I had the privilege of meeting with Mrs. Napper while assessing the project and assembling a team that could make her wishes come true, knowing that we could provide her with a sense of joy and peace of mind. Mrs. Napper continued to say that God has provided for her repeatedly. Her home was built in the 1880's and the Napper family has been in or around the community for just as long.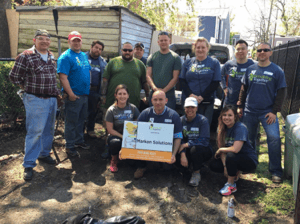 On April 28, 20 Markon Cares volunteers arrived on site to make a difference in Mrs. Napper's home and community. Projects included eight windowsill replacements, some structural modification, general electric projects, beautification, and safety upgrades to her property.
After many projects and long hours, we completed our mission. Mrs. Napper's biggest joy was to feel the fresh air coming into her living room for the first time ever!
As House Captain, I would like to thank every volunteer who made an impact that day.
Thank you, Rick Oden and Guy "JR" Plaster for the hard work on the windowsills.
Thank you, Randy Stark and Nabil Osta for the shed roof, door reconstruction.
Thank you to Joe Becker and Vince Bruce for drywall.
Thank you to Rachel Hanigan and her father Keith for their fence beautification.
Thank you to Kevin Lee, Amad Alas, Marcus Garcia, Rene Rodriguez, Amparo Rodriguez, Ginny Dyson, Chirine Dhehibi, Steve Genn, and Mitch Vasquez for the various projects you took on that day.
Each and every one of you made an unforgettable difference in the Napper family's lives that day.
I'd also like to thank Michelle Gettle for allowing me to step in and be the house captain this year.
Thank you also goes out to my wife Marie Kerns for taking a pry bar to the head while removing boards, creating enough excitement with laughter, blood, sweat, and tears, while still staying strong to the finish line. Finally, a thank you Rebuilding Together Alexandria for allowing Markon to be involved with your community mission. Until next year!
Let me leave you with a saying that I shared with our team:
Selfless love is costly; fear cannot afford it, pride does not understand it and friends never forget it.
To view more photos from the day, check out our Facebook album!
This blog post was written by D. Scott Kerns, National Rebuilding Day Team Captain and Senior Consultant with Markon Solutions.