"Everybody can be great…because anybody can serve. You don't have to have a college degree to serve. You don't have to make your subject and verb agree to serve. You only need a heart full of grace. A soul generated by love."
– Martin Luther King, Jr.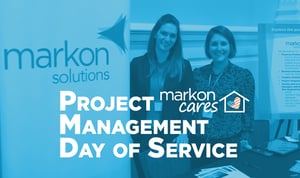 The Washington, DC Regional Project Management Day of Service (PMDOS) is held annually on Martin Luther King Jr weekend at University of Maryland. Professional Project Managers provide pro-bono services and support to local, non-profit organizations in need in order to help advance their mission in our communities. The participating non-profit organizations and Project Management for Change, the organization that delivers PMDOS, emanate the sentiment spoken above by MLK Jr.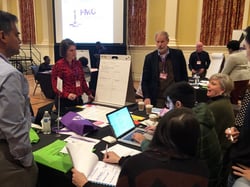 Markon was proud to support this event as a sponsor, as well as sending eight of our seasoned Project Management professionals as volunteers to help support six local non-profit organizations. Each non-profit brought their own unique challenges to the table.
Using PMP skills and guidelines, we assessed the problem, analyzed the risks and stakeholders' involvement, and provided a distinctive project management plan to help them move forward. The non-profits walked away with the tools and playbook needed to achieve their goals.
The non-profit organizations to whom we gave pro-bono project management support include: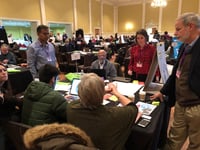 PMDOS 2019 was Markon's 3rd consecutive year of participation. Markon volunteers included Charlotte Daum, Christian Nasner, Tea Music, Julie Swiatek, Steve Genn, Amed Alas, Chris McConnell, and Michelle Gettle. We look forward to PMDOS 2020!
Ready to Join Our Team?
Click here to view and apply for our current career opportunities. Or, to learn more about Markon's culture and engagement initiatives, including our philanthropy committee, MarkonCares, click here.