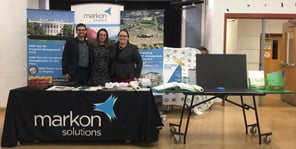 Markon Solutions hosted an informational booth at the Mary Ellen Henderson Middle School's Annual Science, Technology, Engineering, Arts, and Mathematics (STEAM) Night. The purpose of STEAM Night is to encourage an interest in and a life-long love for these subjects.
This Falls Church middle school draws a crowd from beyond its "Little City" boundaries with the goal of showcasing STEAM and educating all who are interested.
Markon's Erin Crooks, Rana Obeid, and Eric Hammerschmidt spoke with kids of all ages about careers in the architecture/engineering/construction (A/E/C) industry and encouraged them to help create "Falls Church in 100 years."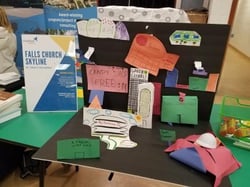 "What do you think this city will look like in 100 years?" Erin askes one student while demonstrating how velum paper is used in designing spaces.
"Have you ever seen a set of construction drawings?" Rana asks another while explaining how the drawings are created with a computer and what the pages represent.
The kids (and adults!) got to touch and feel a wide variety of construction material finishes and learn how they are used in the environment that surrounds them every day at school.
We are proud to showcase our great projects and share our knowledge to help inspire the next generation of A/E/C professionals!