The GEN Certification is the national gold standard for intersectional gender equity in the U.S. workplace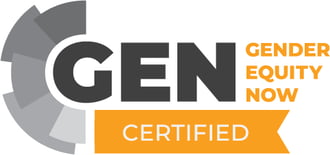 Markon Solutions was awarded the Gender Equity Now (GEN) certification after a year-long process, beginning with an employee survey, followed by the implementation of changes and best practices to ensure intersectional equity across underestimated identities in the workplace. The professional services firm is the first in its industry and the first on the East Coast to receive the GEN certification.
Businesses that are GEN Certified meet standards of excellence across five tenets of workplace culture: bias neutrality, employee resonance, accessibility, employee experience perception, and visible advocacy. This composite assessment of employee experience and employer policies provides a data-driven standard of equity-centered work environments. The GEN Certification assesses employers across 200-plus indicators, intersecting gender, race, age, and caretaker status, rewarding business leaders who go beyond talk to meaningful action.
You may also like: The Washington Post Names Markon Solutions a 2021 Top Workplace
As Markon President and CEO Matt Dean noted, "One of Markon's core values is Championing Diversity and Inclusion, and it's not enough to just say or believe that DEI is a good thing. We must take action to champion that value. Making changes to be consistent with the GEN standard is one of those actions. We are proud that Markon is a company that works to eliminate bias and provides equal opportunities and experiences to all our current and future employees. This makes us a better place for talented employees to work and allows us to provide even better service to our clients."
Markon Vice President Krissy Goff remarked, "Markon is always striving for continuous improvement. Over the years, we've made conscious efforts to be more deliberate in our diversity, equity and inclusion programs. The GEN standard provided us with systematic ways to improve our processes to eliminate bias as much as we possibly could. In meeting with Sara Sanford, we recognized this as a cutting-edge certification that put us ahead of others in our industry. We are committed to providing an open and inclusive work environment for our team. We recognize that in doing so, they will be provided with opportunities for professional and personal development allowing for huge impacts for our clients. Many people were involved in helping us achieve this certification. We are honored and humbled to be one of the first 20 to achieve it!"
Related: Some of Markon's previous equity efforts were profiled by the Washington Post in 'Even Top Workplaces Face Problems With Diversity Pay Gaps'
"I was inspired by Sara Sanford's TEDTalk on Gender Equity in the Workplace. It was never my belief that Markon was an unfair workplace, but GEN provided a benchmark to prove to ourselves that we have Gender Equity in our corporate systems," said Raymond Carney, a Vice President at Markon. "The survey results and process audit that GEN administered gave us the opportunity to find areas we could better communicate or improve. GEN made about a dozen recommendations, some were just recommunicating what Markon was already doing but had low awareness, but others took some time to make changes to the way we do things like recruiting or promotions. About 20 people from the company got involved with helping us make those adjustments. Our systems were not intentionally partial, but we now have processes that meet the highest standards for gender equity. It is an honor to be one of the first companies to meet this standard."
"Markon Solutions is the model for what authentic commitment looks like," said Sara Sanford, executive director of GEN. "They have gone beyond good intentions by examining their processes closely, taking the results of their assessment seriously, and implementing meaningful changes. In a year when many companies put their DEI efforts on hold, Markon insisted on prioritizing their inclusion efforts to meet this standard. For candidates and clients who are looking for a truly inclusive company, Markon is certified authentic."
Created by a consortium of award-winning data analysts, experts in the field of DEI, and researchers at the University of Washington, the GEN Certification recognizes companies whose practices and processes are proven to counter bias and foster equitable access to opportunities for all employees. The Certification assesses businesses across 200-plus indicators, intersecting gender, race, age, and caretaking status. To achieve certification, businesses must optimize their current policies or implement new practices to counter the impact of unconscious bias in the workplace.
You may also like: Energage Names Markon a Winner of the 2021 Top Workplaces USA Award
Through this process, Markon confirmed that many of its existing practices already foster equity, and added some new processes to ensure it sustains equity as it continues to grow. The company's approach includes the following best practices: recruiting and hiring, professional development and representative leadership, family-friendliness and flexibility, pay equity, and culture of inclusion and transparency. Learn more about Markon's comprehensive equity and inclusion strategy at https://www.markonsolutions.com/diversity-equity-and-inclusion.
About Markon Solutions
Founded in 2007, Markon Solutions is a nationally recognized professional services firm headquartered in Falls Church, VA. With an elite team of high-performing leaders and innovators, we serve as trusted advisors managing tasks on behalf of our clients, so that they can stay focused on their mission. Markon's impressive workforce leads with humility and respect, takes initiative, puts corporate and client integrity before personal gain, and are champions of fostering a diverse and inclusive workplace culture where our employees and clients benefit from a wide range of collective viewpoints, experiences, and talents. Markon supports projects all over the world for some of the nation's most prestigious organizations, including commercial clients, higher education, the intelligence community, civilian and defense agencies, as well as state/local entities. Specializing in six core service areas—acquisition, finance, facilities, security, enterprise technology, and training—Markon is consistently recognized on the ENR Top 50 Program Management and Top 100 Construction Management-for-Fee Firms, Washington Post Top Workplaces, and Virginia Business Best Places to Work lists. Learn more at https://www.markonsolutions.com.
About GEN
GEN is a 501(c)3 nonprofit organization headquartered in Seattle, WA. In partnership with the University of Washington, the organization created the first standardized certification for intersectional gender equity in U.S. businesses. By identifying the business practices proven to promote equity and inclusion, GEN takes the guesswork out of attracting and retaining the balanced, fully talented workforce critical to success. To learn more about GEN, please visit www.thinkgen.org.