Markon Solutions is proud to be aligned with the Hiring Our Heroes initiative, which works nationwide to connect veterans, transitioning service members, and military spouses with meaningful employment opportunities.
First launched in 2011 by The U.S. Chamber of Commerce Foundation, today, more than 2,000 companies have committed to Hiring Our Heroes, and there have been more than 505,000 confirmed hires.
Hiring Our Heroes Corporate Fellowship Program
The Hiring Our Heroes Corporate Fellowship Program (CFP) provides transitioning service members with professional training and hands-on experience in the civilian workforce through a 12-week program. This provides key professional development to prepare candidates for a smooth transition into meaningful civilian careers.
Participating organizations benefit by gaining access to the best and brightest transitioning service members, while developing a better understanding of the veteran job market.
How and why is Markon getting involved?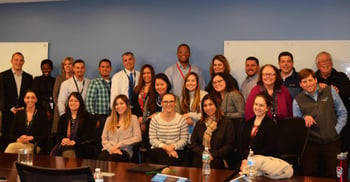 Markon is excited to participate in the Hiring Our Heroes Corporate Fellowship Program and is thrilled to welcome Will as our first CFP Fellow!
Our objective is to cement a positive relationship with the Hiring Our Heroes program and develop a long-term partnership where we can continue to bring in CFP Fellows with the eventual goal of converting these fellows into Markon employees.
Why is Markon partnering with Hiring Our Heroes?
Markon Solutions is partnering with Hiring Our Heroes for the following reasons:
US military values align with Markon's corporate values
Alignment with one of the key pillars of Markon Cares—organizations and initiatives that support our military, service members, military spouses, and veterans
Better access to meet and create professional relationships with service members who have diverse backgrounds, qualifications, and leadership potential
Meet our first Hiring Our Heroes CFP Fellow: Willie F.
Tell us about your background.
I started in the Air Force 21 years ago as an HVAC technician and worked my way through a variety of roles over the years. I've mostly focused on Facilities-related roles, and also gained experience in HR and management capacities.
How did you hear about Hiring Our Heroes, and how and why did you get involved?
I originally heard about Hiring Our Heroes through their job fairs, where I got info to help fellow service members who were transitioning out of the service.
Over time, I learned about the Corporate Fellowship Program (CFP). While it seemed like a great opportunity for the transitioning service members I was helping, many were skeptical. Eventually, I applied for the CFP so that I can share my experience with others, in addition to being ready to take the next step in my own career.
About Markon Solutions
Markon Solutions provides innovative solutions to complex challenges for some of the nation's most prestigious clients. As a nationally recognized professional services firm, we serve as trusted advisors managing tasks on behalf of our clients, so that they can stay focused on their mission. Click here to learn more.
For more information about Markon's involvement with Hiring Our Heroes, please email recruiting@markonsolutions.com.
Ready to Join Markon's Winning Team?
Listed as one of the Best Places to Work in Virginia for the past six consecutive years, we're always looking for top talent across a variety of specialties. Click here to learn more about careers at Markon Solutions, and to view and apply for open positions.