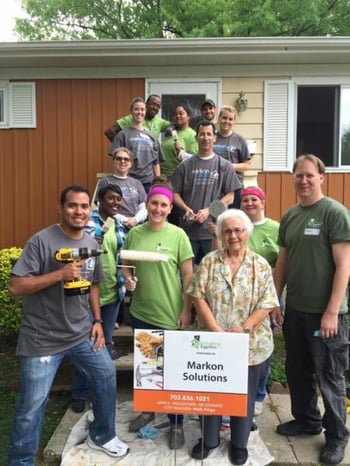 On April 30, 2016, twelve Markon employees/friends/family participated in National Rebuilding Day through Rebuilding Together Alexandria.
Rebuilding Together Alexandria is a non-profit organization dedicated to repairing and revitalizing homes at no charge for homeowners in need, including elderly, disabled, military veterans, and families.
This is the fourth year Markon has participated in this effort.
Together, the team painted a three-bedroom home, cleaned and painted the front steps and porch, replaced two light ballasts, two hose spigots, a toilet, two bathroom faucets, and a variety of other small things that really made a difference!
In addition, Julie Swiatek and Henry Pitera went back to the site on Sunday for some finishing touches.
All of this was made possible by the leadership of Henry Pitera supported by Eric Hammerschmidt. Thank you guys for your leadership! And thank you to the entire team for your hard work supporting our community!
Keep an eye out for next years' event! For more photos of the event, check out our album on Facebook!