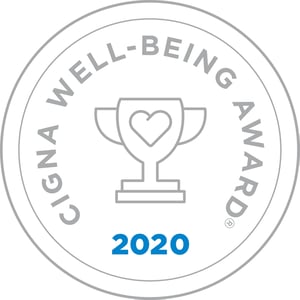 Markon received the award for honorable culture of well-being for demonstrating a strong commitment to improving employee health through a workplace wellness program.
"At Markon, we feel strongly that the more we take care of our employees, the better they will perform for our clients, especially in tough times like we have seen during the global pandemic in 2020," said Krissy Goff, Markon Vice President of Operations.
"That strategy has been instrumental in achieving sustainable growth throughout our 13 years in business, and recognition like receiving the Cigna Honorable Culture of Well-Being Award for the second consecutive year reaffirms our commitment to setting the bar high in terms of the support we offer our people."
The key factors for which Markon won the award include:
Markon has the first WELL certified office space in Virginia, and was also the first contractor in Virginia certified to implement the WELL Building Standard
Related: How the WELL Building Standard Promotes Occupant Health and Wellness
Markon's executive leadership drives the well-being strategy, engages in events, communications, and "walks the walk" to create a culture of well-being
Markon offers premium discounts for employee preventative physicals and gift card incentive raffles for spouses
We held a well-received "Push-Up Challenge" at Markon's most recent holiday party, with participation from both employees and significant others in formal wear...everyone loves some healthy competition!
Markon has an Innovation Lab that allows employees to tap into their creative side to relax and recharge
Markon sponsors a 5K run each year in our local community
We also have an Employee Assistance Program (EAP), does wellness challenges, and produce a health and fitness newsletter called MarkonFIT.
Thank you to all the Markon team members who continue to contribute to our outstanding culture of well-being!
Want to be part of our award-winning culture?
We are always hiring for a variety of roles. Click here to learn about careers at Markon, or click here to browse and apply for current openings.