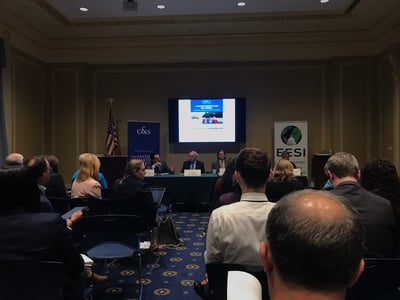 Earlier this year, we shared the exciting news that Markon Senior Associate Patrick Schlecker joined a fellowship program with The Climate and Security Advisory Group (CSAG).
Now approaching the successful conclusion of its inaugural year, CSAG developed this community-wide Climate Security Fellowship Program to address a notable gap in appropriate education and programs to support a widespread increasing interest in career pathways for climate and security professionals.
Related: Markon Senior Associate Joins Climate & Security Advisory Group Fellowship
According to CSAG, the program is "the first professional organization for emerging leaders seeking meaningful careers at the intersection of climate change and security." On September 24, the fellows and other members of the climate and security community gathered at the 2019 Climate and National Security Forum: A Climate Security Plan for America in Washington, DC.
The forum focused on the risks that climate change presents to U.S. military bases and operations, and on the launch of the Climate and Security Advisory Group's Climate Security Plan for America, which details climate change as a vital national security threat, and calls for a National Strategy to execute on a "responsibility to prepare for and prevent" that threat.
Related: The U.S. Navy is Leading the Way on Sea Level Rise
As a part of the fellowship, Markon's Patrick Schlecker and other fellows contributed to a report titled Climate and Security Fellowship Program Risk Briefers, which was released in conjunction with the event. Schlecker's portion of the report makes a case for increased funding to ensure mission readiness in response to Air Force installation flooding. His comprehensive outline of the issue included a case study on Tyndall & Offutt Air Force Base vs. SRM Fund, as well as the following recommendations:
Request an infrastructure budget equal to 4% of PRV
Implement an infrastructure investment strategy that aligns with installation specific resilience programs
The DoD needs to update their Climate Vulnerability Assessment
Click here to access the full Climate and Security Fellowship Program Risk Briefers report.