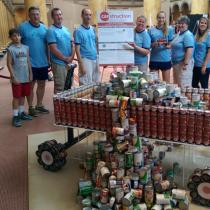 On Saturday, August 23rd Markon participated in Canstruction® by building a 'Little Red Wagon: Pulling Us Out of Hunger' completely out of cans of food.
The Markon design was featured on the front page of the competition website.
Canstruction® is a unique charity which hosts competitions, exhibitions and events showcasing colossal structures made entirely out of full cans of food.

After the structures are built, the creations go on display to the public as a giant art exhibition. At the end of the event, all food is donated to local hunger relief organizations.
The Markon design will be available for viewing at the National Building Museum until Sept 6th.