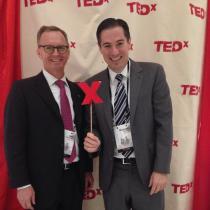 In early June, Ray Carney and Joel Timmins attended TEDxTysons. TEDx was created in the spirit of TED's mission, "ideas worth spreading."
The program is designed to give communities, organizations, and individuals the opportunity to stimulate dialogue through TED-like experiences at the local level.
TEDxTysons' mission is to become a platform for sharing ideas and creating meaningful connections and conversations among thought leaders in our community.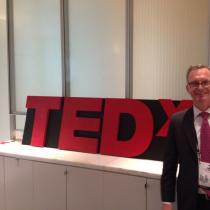 TEDxTysons is named after the Tysons area in northern Virginia. Tysons is being transformed into a walkable, sustainable, urban center that will be home to up to 100,000 residents and 200,000 jobs. Tysons is envisioned to become a 24-hour urban center where people live, work, and play; where people are engaged with their surroundings; and, where people want to be.
The event was hosted by Sarah Fraser and speakers included:
John Bailey, Second Vice President of the National Federation of the Blind of Virginia
Aaron Black, Director of Informatics, Inova Translational Medicine Institute
Andrew Chapman, Publishing Entrepreneur and Author, Social Motion Publishing
Michael Edson, Associate Director/Head of Digital at UN Live
Alfred Grasso, President and Chief Executive Officer, MITRE
Jason Green, Co-Founder, SkillSmart
Dr. Cal Newport, Assistant Professor of Computer Science at Georgetown University and Author
Christopher Painter, Coordinator for Cyber Issues, U.S. Department of State
Diana Sierra, Co-Founder and CEO of Be Girl
Ray and Joel both really enjoyed the talk by Dr. Cal Newport about disconnecting from social media in order to focus. Markon shares TED's mission of "ideas worth spreading" and continues to seek and share great ideas with our team, customers, and anyone we connect.