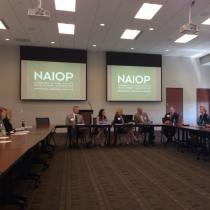 Joel Timmins and Ray Carney recently attended the NAIOP New Member Orientation in Fairfax. NAIOP is a leading commercial real estate industry provider of unparalleled networking opportunities, educational programs, research on trends and innovations, and strong legislative representation.
Markon joined NAIOP in late 2015 in order to attend training, network, and build strategic alliances in the corporate real estate industry.
Joel recently participated as a student in NAIOP's Development 101 course and they have both attended a few of the amazing events that NAIOP hosts.
The New Member Orientation was attended by 32 members from 26 different companies including Markon. The speakers included:
Chairman Peter Scholz (Woodvale Realty Partners, LLC)
Vice Chair/Government Relations Stu Mendelsohn (Holland & Knight, LLP)
Vice Chair/Special Events Kathryn Ciliberti (KBC Group Consulting)
Co-Chair/Developing Leaders Committee Megan Lantz (HITT Contracting Inc.)
Vice Chair/Membership Ed Zaptin (First Potomac Realty Trust)
President Martha Marks (NAIOP Northern Virginia)
Each speaker discussed their committee, the events and opportunities, and how to get more involved with the NAIOP community.
Joel and Ray look forward to attending and getting more involved with NAIOP, including attending the upcoming event Falls Church: Transforming "The Little City."