My next post hits on another of my passions – ice hockey! In case you want to catch up, you can check out the previous installments of my Influential Leaders blog series here:
It's easy to find leadership in the ranks of professional sports among players and coaches but I want to highlight a situation closer to home for many of us. For those of you who have children, family or friends involved in organized sports it can get… a little crazy. For kids that just want to have fun, try out a sport and play there are recreational, 'house' or 'town' leagues. As players get older and they (or their parents) want to have a more intensive experience, there are various levels of travel leagues. Travel leagues can be a big commitment of time and money. Typically, there are additional practices, games and/or tournaments that often require traveling some distance and overnight stays. Some sports have an in-between level, often referred to as select or 'travel-lite.'
My son and daughter both started out playing house ice hockey. My son was interested in travel, but we were not quite ready to commit the time and resources. His hockey league had a select program which he participated in. It was a nice compromise until one season, for many reasons our league opted not to provide the select experience. It was too late for players to try out for travel teams, even if they had what it took to make that level.
Related: What does it mean to lead like Springsteen?
Along came Charlie Vinal. Charlie was a top-notch high school player growing up in the hockey hotbed of upstate New York. He ultimately played Division One hockey for the Cornell University Big Red. Over the years, post college Charlie had become a very accomplished coach at the youth level all the way through high school. Meanwhile, he and his wonderful wife Susan were raising four very active kids all of whom played ice hockey, among many other activities. Charlie's son and my son were both in the same position vis-à-vis the select situation.
Charlie had an MBA from the University of Texas and a technology background. Following B-school he started Euclid Technologies a very successful IT firm. Taking a page from his entrepreneurial playbook, in the absence of a select program, Charlie decided to start a select hockey team.
A complicated, not to mention risky venture.
Charlie had to schedule and buy ice times at local rinks for practices and games. This was a huge limiting factor and one of the reasons our league opted not to do a select program that season in the first place. He had to find teams to play against, certified coaches, managers, a team name and logo, figure out by-laws and insurance, uniforms and most of all he had to find players!
Charlie took a 'build it and they will come approach' by putting up his personal funds and hoping that parents would pay for a start-up select program. Thus, the Rockville Rockets were born.
Related: Sharing Your Passion and Taking Risks as a Leader
After the risk comes rewards
The Rockets held tryouts and put together a team along with a manager, two assistant coaches and of course Charlie served as the very capable head coach. I was fortunate enough to be recruited by Charlie as one of the assistant coaches and we had a blast.
The Rockets went on to have a successful first season playing some very experienced travel teams and posting a respectable winning record. In fact, the season was so successful that the Rockets continued for another two seasons and expanded to include several age groups.
Ultimately, the league that our kids skated in re-established the select program. Many of the Rockets players went on to skate in travel programs. Players and parents were grateful for the opportunity to participate at that level and everyone really had fun.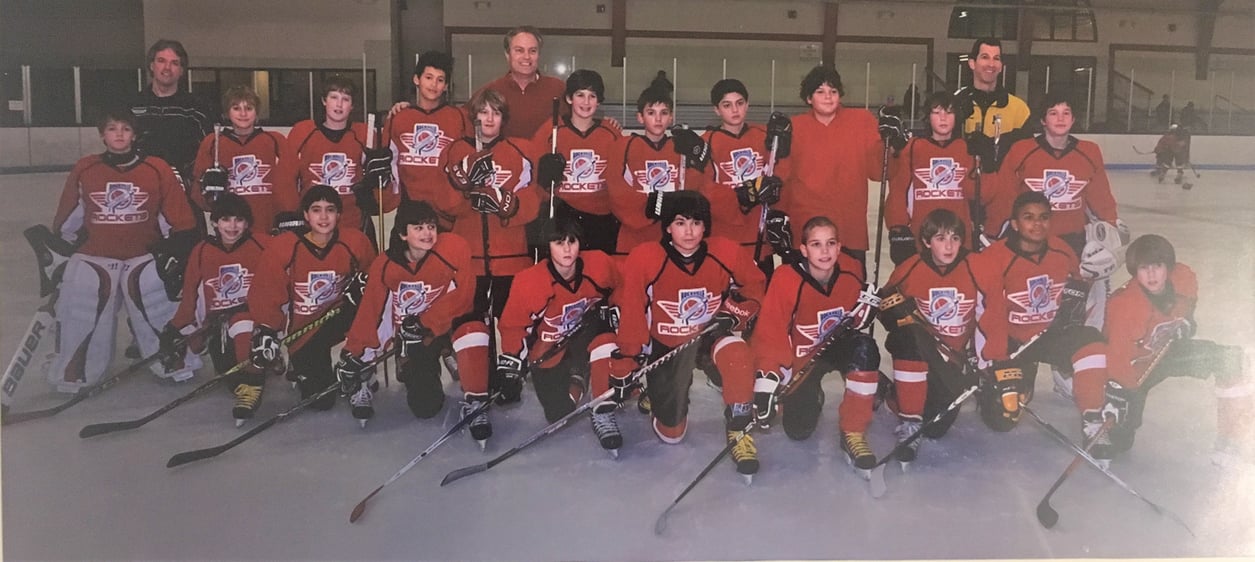 The Rockville Rockets and Charlie Vinal (back row, center)
Leadership takeaways
Under Charlie's leadership and lots of support from Susan, the Rockville Rockets were a huge success. Most players went on to play for their high schools. It would have been very easy for Charlie to let the chips fall as they may, have the kids skip that year of select and play strictly house or travel the following season. But as a leader and as an entrepreneur he saw an opportunity and took the plunge.
The endeavor took a lot of his time and money, but the outcome was a big win for the hockey community. I know I speak for all the players and the families when I express my appreciation for Charlie Vinal's leadership of the Rockville Rockets, on and off the ice.
This blog post is dedicated to the memory of our friend and fellow coach Cleveland Howard. Howie, we miss your smooth stride and infectious laugh.