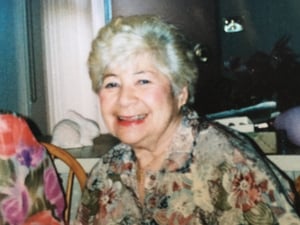 My next blog is focused on a leader that had a profound influence on me starting at a very early age. My grandmother, Sally Greenblatt (known to all as Nana) was a member of the Greatest Generation. She was a woman ahead of her time in many ways, yet she made the best of it and left a lasting impression with everyone she encountered.
In case you want to catch up, you can check out the previous installments of my Influential Leaders blog series here:
Nana started her professional career teaching piano and working in the family business, retail shoes. Over time, she received her college degree in English, but the only teaching position she could find was in special education. Unlike today, in Massachusetts in the 1960's, the laws for special education were pretty sparse. The point being she had special needs high school students who had not spent much time in a classroom-setting prior to that point.
Related: What does it mean to lead like Springsteen?
In the early years, she had her hands full and she did not have much in the way of teacher aid support. She developed her own curriculum since, in her words, she could not send a high school student home, no matter how severe their special needs, with a project that looked like an elementary school student's work. It was challenging work, but she persevered and won over her students and their families. She led in the classroom relying on her creativity, musical skills and sheer will power.
Leadership and Continuing Education
Nana modeled her behavior as a leader with her continuous pursuit of bettering herself through education. During this time she pursued not one but two master's degrees, one in education and one in English literature. She used to say; no one can ever take away your education. Even after she retired, she continued to attend college classes and attained a certificate in Women's Studies.
I once asked her why she didn't just audit the classes and she said she knew she wouldn't be as motivated to do well in her classes without the incentive of credit. While Nana focused on the value of formal education, I would caveat her advice today with a broader support of education and training, be it a certification and/or more vocationally focused.
Related: How People-Focused Leaders Leverage Emotional Intelligence to Motivate Teams
Standards: Simple, Yet Effective
Over the years, Nana set an example for all of us with her high standards. Once during a visit while I was in middle school, I asked her to review one of my homework assignments. She was underwhelmed by the effort demonstrated in my work.
I'll never forget her words in her heavy Bostonian accent: "Never do anything half-*ssed!" She spoke to me with a smile, but her eyes were steely. I have tried to maintain that simple standard ever since.
Nana's Last Leadership Lesson
I got my last leadership lesson from Nana when she was well into her retirement years. She was living in a community that included a synagogue where she was a member. The synagogue was suffering from some dysfunction at the leadership level.
The board approached Nana to serve as president of the congregation. This was controversial at several levels, not the least of which was that she would be the first woman to serve in this role. Her generation was not particularly open to female leaders, and this congregation was no different.
Related: Great Leaders Leverage Teamwork in the Face of Tough Times
Additionally, while she was respectful of the customs, she was not particularly religious. Nana did however recognize the importance of this institution in the life of her community and she opted to accept the challenge. Not surprisingly, over time and through her trademark hard work, tradition, and focus on learning, she won the members over. It was a fitting way for her to end her career as a leader.
What About You?
Who has made an impact on your life? What have you learned from family and other role models? Share your thoughts in the comments below!
If you're ready to truly take your leadership skills (and career) to the next level, click the image below or visit https://info.markonsolutions.com/ldp to get started today!