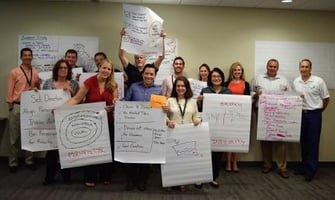 The second session of the 2017-2018 Leadership Development Class began with an introduction of the Primes.
As a mother of an eleven-year old and someone who grew up in the 80's, one of my first thoughts was Optimus Prime.
Then, my thoughts drifted to a few famous Primes from the UK: Margaret Thatcher and Winston Churchill. While Thatcher and Churchill are famous leaders as Prime Ministers, Prime was a leadership designation given to an Autobot (Transformer) who carried the Matrix of Leadership within them.
In the same leadership thread, Primes were introduced as tools to help readily identify common problems. These were distributed among the class in "The Primes," a book by Chris McGoff. Several Primes were introduced during this session through discussion and group exercises.
The Primes included:
Perimeter
Facts, Stories, and Beliefs
Leading
Breach
Leadership Spectrum
The meeting concluded with discussion and trends of the class KPI scoring.