Every year billions of dollars are given to U.S. government agencies for IT acquisitions and services. However, a lack of transparency into where those federally funded IT dollars are spent along with their return on those investments have long been pressed by Congress and taxpayers seeking greater insight.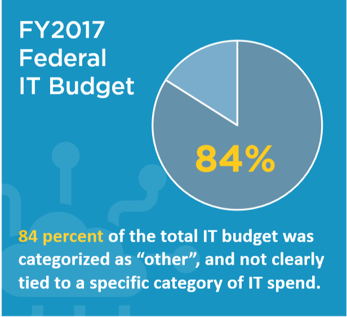 According to the fiscal year 2017 President's Budget report, 84% of the total Federal IT budget is categorized as "other", as opposed to being clearly tied to a specific IT category of spending. This absence of transparency makes it impossible to show tax payers whether their tax dollars are being utilized appropriately to effectively meet the goal of improving Federal IT transformation and mission services.
As a result, a drive to achieve greater transparency to better understand how federal agencies are investing in IT was made apparent through the 2017 endorsement of Technology Business Management (TBM) frame-work from the Office of Management and Budget (OMB). This initiative was in direct support of the Federal IT Acquisitions Reform Act (FITARA) passed by Congress in December 2014.
The government-wide adoption of Technology Business Management (TBM) by FY2022 was a major initiative recommended in the 2018 President's Management Agenda (PMA). This effort aims to improve data accountability and transparency in IT spending, empower innovation from multi-level leadership across agencies, and promote innovative business transformations that positively impact mission value.
What is TBM?
TBM is a powerful value-management framework that gives technology leaders and their business partners a consistent way to benchmark the consumption of IT resources, improved acquisition performance, and increased awareness on IT spending and how those investments support agencies achieve their missions.
TBM implements a standard IT spend taxonomy that enables organizations to breakdown IT spending into categories that are smaller and consistent. This approach provides stakeholders with a thorough understanding of their organization's IT costs and spending.
As this methodology matures and becomes more ingrained in agencies, TBM will empower organizational leaders to better understand and communicate the business and mission value associated with the IT dollars being invested. Likewise, it will enable IT programs to run like a business by connecting technology to business value and building partnerships between IT and mission teams throughout agencies.
Challenges
The greatest technical challenge of implementing TBM is how to distribute cost accurately and defensibly throughout the TBM taxonomy. For example, on a contract supporting an Application Development organization, all labor costs and hours are usually designated as External Labor at the Resource level, and then rolled up under Application at the IT Tower level. However, it can be presumed that not everyone on the contract is solely dedicated to Application Development. There might be other IT functions, such as Database Admin and Network Admin, that can be mapped to Storage category and Network category, respectively.
There could also be additional, non-IT functions being performed as well. Assuming the contract is valued in the hundreds of millions of dollars, and all costs are being recorded under the Application category, how accurate and trustworthy can the numbers be?
Another common bureaucratic challenge is the poor connection between the budgeting process and management of budget allocations, oftentimes resulting in significant discrepancies in the budget allotment at the Agency level for IT services compared to its execution at the lower organizational levels.
Related: Financial and Acquisition Management for Complex Organizations
Opportunity
At Markon Solutions, we view this as a huge opportunity for us to help the federal government by showcasing our Activity Based Costing (ABC)TM branded solution. Through Markon's standard ABCTM process, relevant IT financial data is effectively identified, captured, distributed, and accurately mapped to the TBM Taxonomy. For example, instead of all costs being allocated to Application under the IT Tower, as mentioned above, our ABCTM process will help identify the different categories of IT and non-IT related activities, and then fundamentally allocate them to their appropriate categories within the IT Tower.
ABCTM provides the most accurate and fair analysis of all the IT cost allocation methods available. ABCTM is an extended cost allocation method that identifies activities associated with a product or service offering and assigns indirect costs to those offerings based on the activity performed during production. By focusing on the activities that drive cost, ABC can accurately trace the use of resources being consumed by individual products or services.
Markon's ABCTM solution will equip stakeholders with the relevant information necessary for successful implementation of TBM. Ultimately, the adaptation of TBM will provide key insights into the IT metrics which drive informed IT, financial, acquisition, and human resource decisions that lead to greater cost transparency and investment soundness.