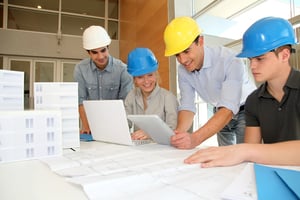 Developed by the Construction Engineering Research Laboratory (CERL), part of the US Army Corps of Engineers (USACE), BUILDER has emerged as an enterprise-level sustainment management system that supports the Operations and Maintenance (O&M) process for many government organizations.
During 2017-2018, Markon supported the Intelligence Community (IC) feasibility study on adopting BUILDER to standardize condition assessments and work plan documentation. The IC plans to use the study results to plan a broader roll-out of the application.
Common BUILDER Use Cases
Within the Department of Defense, BUILDER is used for many facilities management tasks, such as:
Prioritizing recapitalization/renovation plans

Managing five-year unfunded requirements lists

Measuring trends of O&M performance against condition indicators

Managing work environment improvement programs
BUILDER Goals and Benefits for the Intelligence Community
The IC project included the following goals:
Develop a recapitalization program based on definitive condition indicators

Develop a process for portfolio-wide project prioritization

Measure O&M performance with condition indicator trends and forecasts
Essential components of the recapitalization plan will include details of out-year funding needs and an objective basis for evaluating priorities for all division areas. BUILDER provides granular asset data down to the maintainable unit level, using the hierarchy of installation—building—system—equipment—component.
Maintainable units can be anything from an individual component piece of equipment to groupings of equipment that are similar in condition and maintained as a single item.
A standardized parametric life-cycle curve is developed for each asset that shows how condition degradation occurs through the years: slowly at first, faster during the middle years, and then slowing again towards the end of the asset's useful life.
Putting BUILDER to the Test
During Phase 1 of the feasibility study, Markon contributed to the effort to develop a standardized data collection and reporting process. The goal was to ensure that follow-on efforts would be sustainable at both OCONUS and CONUS sites using existing O&M personnel.
Other elements of the study included determining the input requirements for initializing BUILDER support, planning how to install BUILDER on internal networks, and drafting an implementation schedule. A test case demonstration revealed the application's usefulness and how it can be applied towards IC facilities.
Results
When Phase 1 concluded, the project team compiled findings and recommendations, including the following needs:
Standardize the facility assessment process throughout the IC to facilitate apples-to-apples comparisons across the agencies

Define asset management procedures for the community

Implement a data management plan to enhance accuracy and granularity to improve recapitalization decisions
The feasibility study indicated that BUILDER is suitable for IC use, and the implementation is now in the planning stages. Meanwhile, Markon's asset management support continues via a new task order, and we are also assisting this implementation at component agencies.
This blog post was written by George Kerns, SFP, FMP, Enterprise Facilities Engineering Manager at Markon Solutions.