Recently, some of my colleagues and I had the chance to explore the advantages of early contractor involvement (ECI) with a client who was inclined to use design-bid-build project delivery. They had already ruled out design-build for this major roof renovation with structural repairs. The ECI plan we discussed would have brought the construction manager into the project early via a separate contract to facilitate design coordination and integration. Our goal was to mitigate performance and schedule risk with the ECI approach.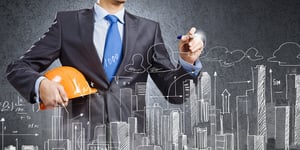 Interest in alternative delivery methods is growing, just as the ECI discussion suggests. Markon's clients are more inclined to consider third-party methods, such as agency construction manager or program management-for-fee, for their projects. These approaches allow them to remain focused on their core businesses while the economic growth cycle continues, especially in the private sector, where project managers are focused on performance factors such as speed of delivery.
As part of the risk mitigation emphasis, we're also seeing more interest in project controls solutions paired with our PM/CM offerings, and trusted advisor relationships to preempt the need for a lot of post-award changes. It's imperative to manage technical and cost risk in large construction projects, and clients are looking to their program managers and construction managers to bring these skills to the table. The real driver these days is finishing the project on time, and that's where a construction management firm should be focused.
Finally, there is a broad interest in bringing new technologies to construction projects. For example, drone applications can be used for inspection and verification. RFID and Bluetooth applications can track contractor time and attendance, which we've used with our SiteViewTM tool to analyze and forecast expected completion dates.
We used to laugh and say that construction hasn't changed much since they built the pyramids. The industry is generally regarded as slow to adapt and change, but in this era of new products, technology, and applications – big impact innovations like 3D design, virtual reality, and artificial intelligence – as well as new project delivery approaches, at last there is the opportunity for a renaissance in the field.