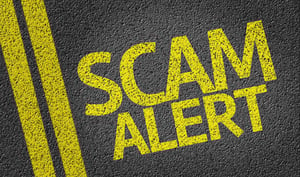 Your phone rings. You answer it. An unknown voice tells you that they have your son…or your daughter…or your mother. You hear a scream in the background, and you call out — "Mom!"
The unknown voice replies, "We have your mom. If you ever want to see her alive again, you need to wire us $1,500 now."
Mom is just fine and is out building a lamp in the wood shop. The caller doesn't know that. The scream was likely a recording or an accomplice. You don't know either of those things.
This is virtual kidnapping and you are the target.
What is virtual kidnapping?
Virtual kidnapping is not new, in fact, it has been going on for a few decades now. With everyone having cell phones, it is easier for scammers to call randomly and hope to get a good target. Additionally, social media can make it easier for virtual kidnappers to select and deceive victims.

If you think it can't happen to you, think again. Thanks to technology, the call may look like it comes from the victim's phone or it may be a random, unknown number.

The caller operates the same either way:
They move quickly and pray on your fear for the victim.
They keep you on the phone to prevent you from contacting the victim.
Money is to be paid via wire transfer, often to Mexico and in amounts of less than $2,000 (to avoid being flagged).

Requested amounts may drop quickly if you can extend the call.
If you receive a call like this, keep your wits about you.
What can you do?
Consider the following approaches:
In most cases, hanging up is best. They will likely move on to the next target.
If you engage with the caller, DO NOT provide any information like your loved one's name.
This is about speed so try to slow things down. Get "proof" that they have your loved one.

Ask to speak with your loved one directly. You want to know that they are okay.
If you can't talk to them, ask the caller a question that only your loved one would know, such as a pet's name, but avoid sharing information about you or your family.
Repeat what the caller says and state that you are taking notes.
Tell the caller that you need time to figure out how to do this but DO NOT agree to pay the ransom.
Try to reach your loved one via phone, text, social media and request they call you from their cell phone.

NEVER agree to meet someone in person as this can be dangerous.
If you believe that you are the victim of a virtual kidnapping call or that an actual kidnapping is occurring, contact local law enforcement or the nearest FBI office immediately. If you believe that you may have a tip about a scheme like this, you can report them online at tips.fbi.gov.