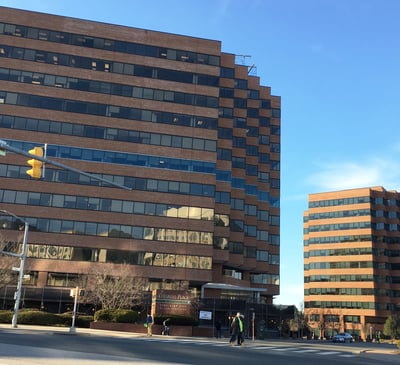 In 2016, Lincoln Property Company was staring down a major project: two of their buildings on the three-building campus known as Colonial Place were in need of window replacement, and this was no everyday window replacement. These late-1980's buildings were designed with ribbon windows, leaving no stopping points once work had started on a floor. They hired Markon Solutions to step in as part of, and support for, the property management team.
Markon came on board as the tenant-construction liaison, in charge of keeping all tenants abreast of the upcoming window replacement schedules, as well as securing swing spaces and detailed planning to ensure a smooth transition to and from these swing spaces.
In order to ensure a secured construction schedule for each tenant and to mitigate the impact of construction on their businesses, Markon:
Laid out the weekly construction schedule for the contractor, meeting regularly to assess risks to the schedule and find solutions, or communicate necessary changes to the impacted tenant in a timely manner

Arranged meetings with project superintendent for schedule approval

Scheduled and directed JK Moving, overseeing their work on site as each tenant was moved

Coordinated construction with building security

Partnered with building engineers and construction teams to coordinate workflow and access

Daily managed ordering and setup for all swing spaces

, catering to accommodate things each tenant was accustomed to in their usual suite

Oversaw tenant relocation

to and from sing space, including furniture and artwork as needed

Managed IT cabling connect/disconnect coordination for each tenant

Managed suite security for each tenant, including one SCIF space, to ensure that their temporary swing space was as secure as their normal suite

Performed post-construction follow-up and punch list generation

Coordinated with Kastle and Datawatch to secure swing spaces and obtain cards and access for each tenant, as needed
The greatest challenge in this project was maintaining a constant flow of accessible work for the window provider. This subcontractor was the most immediate source of budget risk, assessing an automatic cost of $10,000 per night if they were unable to work. This meant that the tenant schedule needed to be a rapidly and smoothly moving machine.
While window work had to be available, the limited swing space meant that Markon needed to carefully avoid schedule overlaps or delays, ensuring each tenant had their own swing space during their displacement. In short, Markon had one primary goal in this project: avoid a stop work. This was accomplished through a careful and well-informed handling of the tenants, their schedules, their particular needs, and adjusting to ensure we met them all as fully as possible.
At project completion, Markon and Lincoln Property Company successfully avoided incurring the cost of a single stop-work night due to tenant conflict.