For week 4 of Mental Health Awareness Month, we're focused on breaking the stigma of Mental Health as it relates to your Security Clearance.
You can also catch up on our previous Mental Health Awareness Month posts here:
Background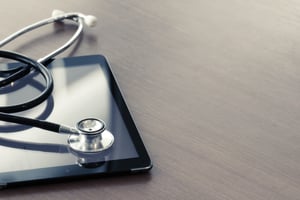 Most individuals who work on a government facility or support a government contract have a security clearance. To obtain a clearance, one must go through a severe background check, part of which includes questioning an individual's psychological health.
A question regarding mental health is asked on the Standard Form 86 because certain emotional, mental, and personality conditions can impair judgment, reliability, or trustworthiness and involve the loss of classified information.
However, the U.S. government recognizes the critical importance of mental health and advocates proactive management of mental health conditions to support the wellness and recovery of federal employees and others. The knee-jerk reaction that mental health issues cause automatic clearance denial is NOT true. Between 2006 and 2016, only 1 in 35,000 were denied or lost a security clearance due to mental illness.
Government employees and contractors are not immune from the normal life stresses and difficulties that confront the population at large. Each day, individuals with mental health conditions carry out their duties without presenting a security risk. Regardless of whether an individual holds a security clearance, individuals experience a range of reactions to traumatic events. For example, the death of a loved one, divorce, major injury, service in a military combat environment, sexual assault, domestic violence, or other difficult work-related, family, personal, or medical issues may lead to grief, depression, or other responses.
Often, the decision to seek help is interfered with by individuals' misconception that their security clearance may be in jeopardy, regardless of the problem for which they seek help. Some believe that their judgment may be called into question if they seek assistance in dealing with a stressful situation or even take prescription medication. Seeking help for routine life crises does not reflect adversely on an individual's judgment, nor does it jeopardize an individual's security clearance.
Therefore, mental health treatment and counseling, in and of itself, is not a reason to revoke or deny eligibility for access to classified information or for holding a sensitive position, suitability or fitness to obtain or retain federal or contract employment, or eligibility for physical or logical access to federally controlled facilities or information systems. Moreover, seeking or receiving mental health care for personal wellness and recovery is seen as a positive judgement factor and may contribute favorably to decisions about your eligibility.
What we look for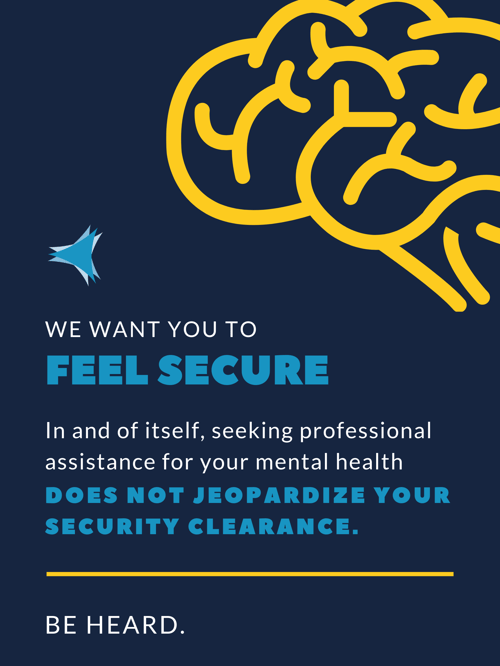 In reality, security professionals are most concerned with specific behaviors that demonstrate a security risk, not mental disorders.
Examples of such behaviors include:
Witting or unwitting exposure of the names of Intelligence Community personnel to Foreign Intelligence Service or the media.
Breaches in security of government facilities.
An employee providing classified information, wittingly or unwittingly, to unauthorized persons.
Attempts to gain access to information for which they have no need-to-know.
Coming in early to work or working late for no obvious reason.
Sending materials to print to other than their normal printer.
Not reporting foreign travel or meetings with foreign nationals.
Reporting
One should not fear reporting your need for support with mental health stressors and illness as the U.S. government encourages those who might benefit from such treatment to seek it.
However, if you observe someone performing the behaviors noted above or other behaviors of security concerns, you should report that behavior. The fastest way to report a behavior of concern is to email security@markonsolutions.com.
Questions, comments or feedback:
Please reach out to HR or Security with any questions or feedback on this initiative.